The Weatherization Assistance Program is designed to reduce the impact of high home energy costs for income eligible residents by implementing energy-efficient measures that may include reducing air infiltration, installing insulation, heating system repair or replacement, and air quality assessment.
Homeowners as well as renters with owner approval may be eligible. After certification of eligibility based on household income and number of household members, each home is assessed by CAASTLC to determine the appropriate services. Professional, bonded and insured contractors perform the actual services. Each completed job must pass a final inspection for materials and workmanship by CAASTLC. Dwellings are prioritized for services based on winter energy consumption, elderly or disabled household members, and other factors. If you are interested, please call (314) 863-0015, Option 2. Or you can print and complete the application as instructed below.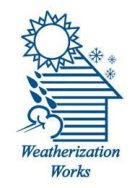 Check Out These Videos To Learn More About The Weatherization Program & What It Can Do For You

What is the Weatherization Program?
What can weatherization do for me?
Required Documentation:
Social Security card for head of household
Your most recent gas and electric bills
Proof of income for the 3 complete calendar months prior to the month you are applying.   Provide copies of pay stubs, Social Security Award letter, pensions, unemployment, alimony, etc. for everyone in the household, regardless of the wage earner's age.
If you rent your home, provide your landlord's name, address, telephone number and fax number.
Weatherization Income Eligibility Requirements – Household income may not exceed 200% of the federal poverty guidelines.
Size of Family Unit
Monthly Income
Annual Income
1
$2,430
$29,160
2
$3,287
$39,440
3
$4,143
$49,720
4
$5,000
$60,000
5
$5,857
$70,200
6
$6,713
$80,560
7
$7,570
$90,840
8
$8,427
$101,120
For families with more than 8 members, add $10,280 for each additional person
Weatherization Applications:
Click here for the Weatherization Application and Instructions. Please print, fill out and mail the completed & signed application along with the required documentation to: CAASTLC, Inc., 2709 Woodson Road, Overland, MO 63114,  Attention:  Weatherization Intake.
Haga clic aquí para la impermeabilización Aplicación e instrucciones. Por favor, imprimir, llene y envíe la solicitud completado y firmado junto con la documentación requerida a: CAASTLC, Inc., 2709 Woodson Road, Overland, MO 63114,   Attention:  Weatherization Intake.